"KA-TA-SHI-HA-YA, E-KA-SE-NI-KU-RI-NI, TA-ME-RU-SA-KE, TE-E-He, A-SHI-E-He, WA-RE-SHI-KO-NI-KE-RI"
– A magic spell from the Shugaisho Japanese encyclopedia that when chanted, will protect you from Hyakki Yagyo or the dreaded "Night Parade of 100 demons."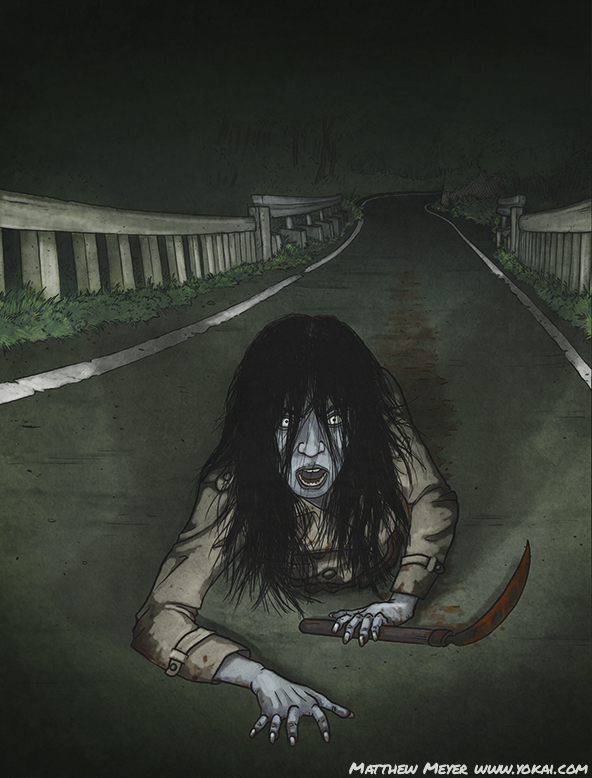 Location:
The Gifu Prefecture of Japan, where some believe the legend of Kuchisake-onna may have began.
Background:
The folkloric traditions of Japan are as rich and vibrant as the country itself, and this is especially true with their pantheon of supernatural characters collectively known as Yokai. The word Yokai in Japanese comprises two concepts: "Yo," meaning: bewitching; attractive; calamity; and "kai," meaning "a mystery, wonder or specter; apparitions; something mysterious or suspicious." There are so many types of Yokai, each with their own unique personalities, functions, and behaviors that it's assured both of those concepts are well-represented. Some Yokai are merely mischievous pranksters and can bring good fortune to those that encounter them. Others will surely bring a most gruesome death. Join us tonight as we speak with illustrator and author Matthew Meyer, creator of Yokai.com, as we explore the endlessly fascinating world of some of Japan's most popular and terrifying mythical creatures. But don't let your guard down too much, because as it's often said, there is some truth to the origin of most myths and deadly spirits know no borders.
Special Offers from our Special Sponsors:
CREDITS:
Episode 121: Yokai Horrors of Japan. Produced by Scott Philbrook & Forrest Burgess; Audio Editing by Sarah Vorhees Wendel; Ryan McCullough and John Bolen Sound Design; Research Assistance by Tess Pfeifle and the astonishing League of Astonishing Researchers, a.k.a. The Astonishing Research Corps, or "A.R.C." for short. Copyright 2018 Astonishing Legends Productions, LLC. All Rights Reserved.