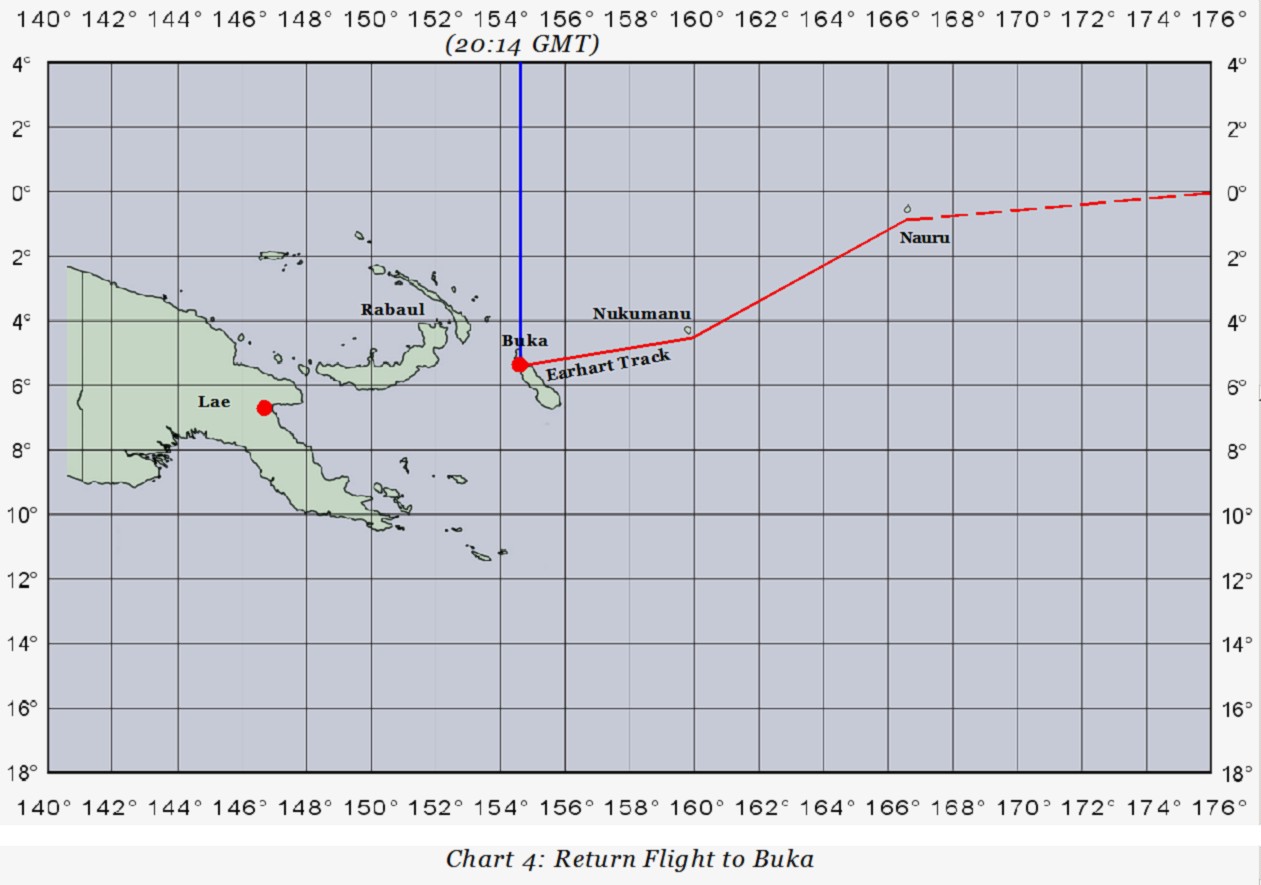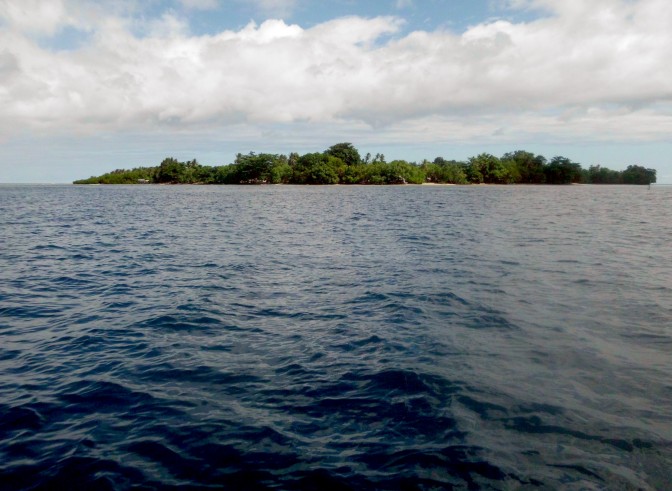 Location: Buka, Papua New Guinea
(From Wikipedia) Buka is located on the southern coast of Buka Island, in the Autonomous Region of Bougainville, in eastern Papua New Guinea (country). It is the capital of the North Bougainville District, and the interim provincial capital of the Autonomous Region of Bougainville. The city and Buka Island are separated from the northern tip of Bougainville Island by the Buka Passage. Both islands are in the northern Solomon Islands archipelago, and the only major ones not within the nation of Solomon Islands.
Background:
Of all the hypotheses of what happened to Amelia Earhart and her Electra 10-E, William "Bill" Snavely, Jr.'s may be the only one that starts with a found plane and traces her route backward towards her last known contact point. Operating on a hunch that due to low fuel, Earhart may have decided to turn back to a viable landing strip, which would have taken her directly over the path of Buka Island, east of Papua New Guinea. While in Buka searching for clues, Snavely received a tip that an airplane had crashed in 1937 and still lays submerged off the coast in 100' of water. According to Snavely, only roughly 30% of Earhart's route has been searched and has yielded nothing, so why not search the remaining 70%? Taking that approach has found a plane that so far, matches the description of Earhart's Electra. If an expedition could be mounted to identify this plane more thoroughly, could it be that one of the greatest mysteries of the 20th Century will be solved once and for all?
Special Offers from our Special Sponsors:
hims – 66% of men lose their hair by age 35 – it's not just old guys! The thing is, by the time you start to notice you're losing it, it may be too late and it's easier to keep the hair you have than replace the hair you've lost! But don't worry just yet, because now you have ForHims.com, a one-stop shop for hair loss, skin care, and sexual wellness for men. hims connects you with real doctors and medical grade solutions to treat hair loss and E.D. No more awkward waiting at the doctor's office or at the locked cabinet at the pharmacy. Answer a few quick questions online and a doctor will review and prescribe generic equivalents to name-brand medications which are delivered right to your door. And now you can get a trial month of hims for just $5 while supplies last, just by going to ForHims.com/legends! See website for full details.
This Sounds Serious – Like "True Crime" podcasts but wish you had some humor to go along with all that heaviness? Then this podcast is for you! This Sounds Serious, a cool new show from Castbox is a serialized, fictional True Crime show that delivers a lot o' wild twists, turns, and laughs along the way! Season One is about The Case of Daniel Bronstadt, a quirky, but loveable guy who just may have murdered his twin brother. This season's got cults, boy bands, horses, mistaken identity, a Florida weatherman – what more could you ask for?! It's written by the people behind the Maximum Fun show, "Stop Podcasting Yourself," the CBC's "This is That" and Panoply's "Dexter Guff is Smarter Than You," and stars Peter Oldring and Carly Pope, who's been on hit shows like Arrow, Suits and the motion picture Elysium. Each episode is about 25 minutes long so it's perfect for the average commute! Download "This Sounds Serious" today, wherever you get your podcasts or go to www.thissoundsserious.com
The Great Courses Plus – Learn about virtually anything, now with over 10,000 lectures on almost any subject you can think of – from history and science to learning a new language, how to play an instrument or explore topics like food, the arts, travel, business, and self-improvement! And now their app lets you listen to just the audio from the courses or watch the videos, just like a podcast! Available for iOS and Android. So head on over to TheGreatCoursesPlus.com/LEGENDS to start your special, limited time only, FREE ONE MONTH TRIAL with unlimited access today!
CREDITS:
Episode 106: Earhart's Plane Found? Produced by Scott Philbrook & Forrest Burgess; Audio Editing by Sarah Vorhees Wendel; Ryan McCullough Sound Design; Research Assistance by Tess Pfeifle and the astonishing League of Astonishing Researchers, a.k.a. The Astonishing Research Corps, or "A.R.C." for short. Copyright 2018 Astonishing Legends Productions, LLC. All Rights Reserved.